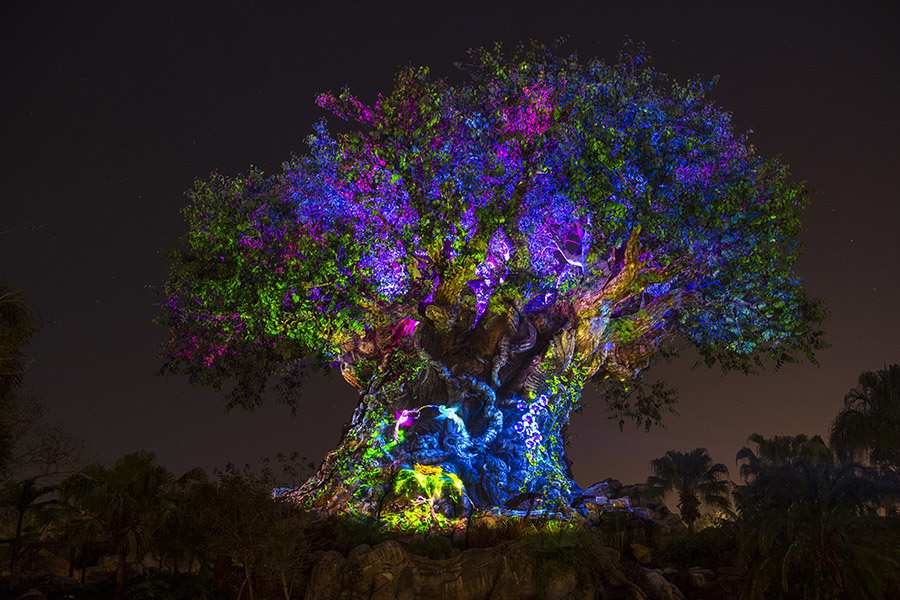 Starting Memorial Day Weekend, Disney's Animal Kingdom will begin offering extended hours along with all-new night time shows & entertainment – including a just-announced "The Jungle Book: Alive with Magic" show.
Inspired by Disney's new hit live-action film The Jungle Book,  Jungle Book: Alive with Magic is a live show filled with music and special effects that celebrates the new film and the classic songs. The show will take place along Discovery River and will only be a limited-engagement show.
Rivers of Light is still under development with an opening date or time-frame yet to be announced.
The other offerings and activities were previously announced early in 2016. Here's a rundown of what to expect:
The Tree of Life Awakens
The theme park's iconic Tree of Life will undergo extraordinary "awakenings" throughout the evening as the animal spirits are brought to life by magical fireflies that reveal colorful stories of wonder and enchantment. High-tech projections of nature scenes take on a magical quality as they appear to dramatically emanate from within the Tree of Life.
Kilimanjaro Safaris after Dark
Each evening, the popular Kilimanjaro Safaris daytime experience is artfully bathed in the glow of sunset with special lighting allowing guests to explore this attraction well into the night. During the expedition, guests can now encounter the nighttime behavior of the wildlife and better tune in to the unique vocalization of the animals. Plus, there are two new species to discover: African wild dogs and hyenas.
Harambe Wildlife Parti
When the sun sets, the popular Village of Harambe will become a hot spot with the new Harambe   Wildlife Parti. Here, "party animals" can dance alongside a variety of entertainers and local street musicians, and enjoy the lively rhythms of African music. Guests can also partake in exotic foods and libations, and explore the diverse wares of village artisans and merchants in the vibrant marketplace.
Discovery Island Carnivale
The spirited community of Discovery Island has come together to celebrate their love of the natural world with the Discovery Island Carnivale. This nightly experience will captivate guests with lively music, jubilant dance, vibrant costumes, stilt walkers and tasty culinary creations — winding from one end of the island to the other.