October 6, 2014 – With Halloween Horror Nights well underway, we thought we'd take a look at some of the bigger projects currently occurring at the park.
Despite the Transformers photo opportunity finally opening last week, Universal Studios Hollywood continues to be the cornerstone of construction – not only for the Wizarding World of Harry Potter, but also for Springfield, Fast and Furious: Supercharged, the site of Stage 28 and much, much more.
It's a jam packed update, so let's get started.
Park Update Index
» Halloween Horror Nights
» Lankershim Boulevard
» Parking Lot Expansion
» The Wizarding World of Harry Potter
» Fast and Furious: Supercharged
» Springfield
» Studio Tour Bridge
» Soundstage 28 Deconstruction
With Halloween Horror Nights occurring on select nights, the park continues to be dressed in horror decor. While some areas have been covered or toned down due to daytime guest complaints, decapitated bodies, pierced stomachs and gruesome displays are still prominently featured throughout Universal.
While not much has changed in terms of Halloween Horror Nights since our last updates, monitors have been placed in front of Universal Plaza for Dracula Untold. They're switched off during the day, but they do display trailers for the upcoming Universal film Dracula Untold at night in a bit of cross promotion between the maze and the film.
Perhaps more notably, heavy construction continues to occur at Universal's Lankershim entrance. The center medium has been completely removed as Universal works to widen the road in preparation for its new 500-room hotel.
Construction on Universal's additional parking structures continue to develop alongside the existing Curious George parking lot. Not much has visibly changed, though Universal's current parking situation remains somewhat of a mess as cars are rerouted around the property to avoid the onrush of construction.
The new parking structure will open by 2016.
The Wizarding World of Harry Potter
Construction for the Wizarding World continues to be the cornerstone of development for the park, with half of the Upper Lot walled off as crews look to reconstruct the third iteration of the massively popular themed land.
Perhaps more notably, readers have spotted equipment for Forbidden Journey being hosted into the show building. This past weekend, USHForums.com user Daniel managed to spot one of Potter's projection domes being lifted in the backside of the Studio Tour offloading section.
Fast and Furious: Supercharged
Visibly, not much has also changed for Fast and Furious: Supercharged as work continues to occur within the interior of the building.
With the final show building mostly enclosed, crews are now looking to enclose the first, smaller building in the coming weeks.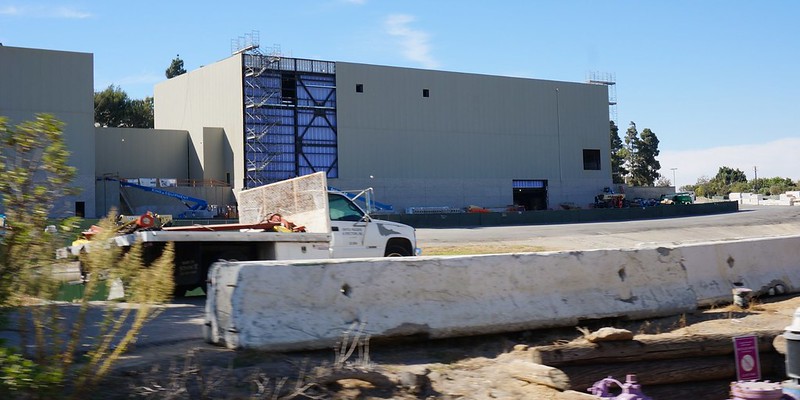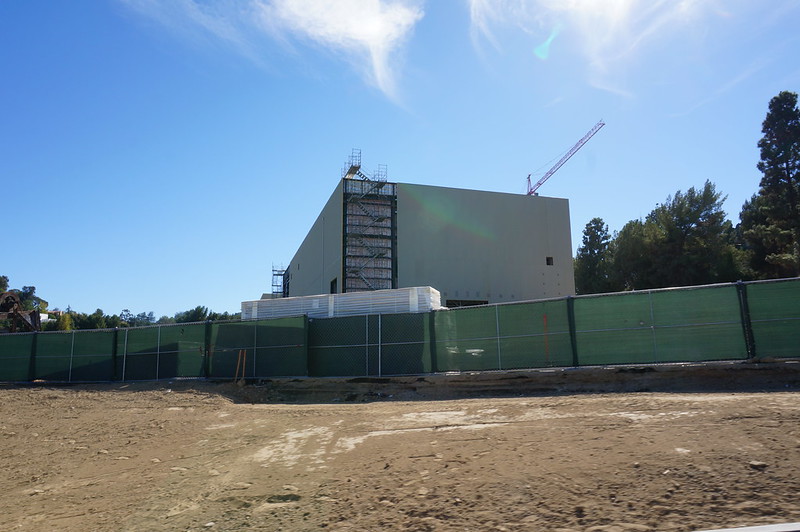 With work progressing on the Springfield food court facade, facades are beginning to resemble their counterparts in Universal's concept art released earlier this year.
In the two graphics below, we've matched some of Springfield's biggest landmarks with their respective structures – including Moe's Tavern, the Springfield Penitentiary, the Springfield hill, the Aztec Theater and the Springfield Police Station. With these landmarks in mind, one can begin to picture the entirety of the Springfield facade and the locations of each specific reference from the television show.
Interestingly enough, the work currently occurring near the Studio Tour bridge is being performed in preparation for – get ready for this – a new trash compactor for the Upper Lot.
We're not sure how this project will eventually develop and whether Studio Tour guests will have a new view of Universal's infrastructure, but regardless of the turnout, the area continues to receive heavy work.
Crews have finished demolishing Soundstage 28.
The soundstage's former site has now been cleared, and construction crews are now removing all traces of Universal's former historic stage. It'll be interesting to see how the site develops in the coming years.
That does it for this update. Please continue to follow Inside Universal's coverage of all things Universal Studios Hollywood and be sure to like us on Facebook and follow us on Twitter and Instagram.

Jon Fu
Jon Fu is the editor-in-chief of Inside Universal.
Jon originally founded InsideUniversal.net in 2006 as a summer hobby aimed at providing families and fans a resource for all things "Universal Studios Hollywood." Since then, the website has taken him throughout the United States and around the world – including to places like Universal Orlando Resort, Universal Studios Japan and Universal Studios Singapore.
Jon currently resides in Santa Cruz, California. You may reach him at jon@insideuniversal.net.