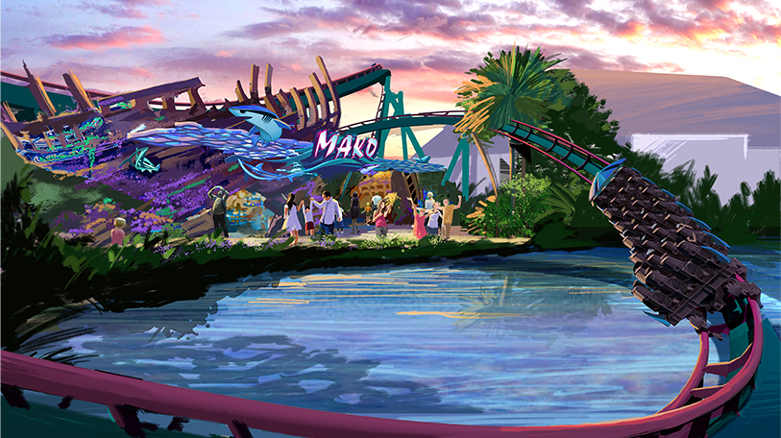 SeaWorld Orlando has announced a new B&M Hyper Coaster will be arriving to their park in 2016.
Mako – named after the fastest shark in the Ocean – will be the tallest, fastest, and longest Roller Coaster in Orlando when in opens next year – standing 200 feet tall and reaching speeds of 73 MPH with a length of 4,760 feet. The height requirement is expected to be 54″
"On Mako, you'll experience what it's like to be this apex predator, surging through the water at top speed and chasing prey throughout a massive reef," said Brian Morrow, SeaWorld's attraction creative director. "It will be a wild mix of fear, thrills and fun."
Mako's tight turns and speed are inspired by reality. Mako sharks — also called "blue pointers" — are known for their top speed, making extreme jumps and the ability to quickly change course as they pursue their prey.
Mako is manufactured by Bolliger & Mabillard (B&M), which previously designed SeaWorld's Manta and Kraken coasters. For those unfamiliar with the term "Hyper Coaster" – it is a roller coaster with a height or drop in excess of 200 feet, and is built for speed and airtime.
SeaWorld's new hypercoaster will be the centerpiece of the newly themed surrounding realm. The two-acre
plaza now will be fully shark themed including Mako, Shark Encounter, Sharks Underwater Grill, shops, shark and shipwreck theming and educational experiences featuring sharks.
The entire realm is created to make guests feel they're underwater, part of the group of sharks and toothy animals that have taken over a shipwrecked reef.
In the plaza, guests will learn about the impact humans are having on sharks and why these animals are critical to the environment. Sharks are hunted for their fins — considered a delicacy in certain countries — and thousands are caught accidentally in nets. Several species of sharks are on the verge of extinction.
"It's this blend of education and thrills, immersing guests in an underwater world, that sets a SeaWorld ride apart from others," said Morrow.
"Our fans will love how Mako complements our other rides. Kraken is big, monstrous and twisty. Manta is massive and glides smoothly, taking you on a flight like a huge ray. Mako is entirely different. It's streamlined and fast, just like a mako shark. There's no wasted motion, it's all speed and dives."
Mako uses a unique sound system to enhance the experience, and not just for those on the ride. The full score of Mako can be heard and follows riders out of the station and up the lift hill. Custom surround effects and musical scores fill the realm, changing as the coaster dives through the area.
At night, specialty lights will accent the coaster trains, realm and track, flickering and shimmering, simulating fish being scattered by a mako on the hunt.
This slideshow requires JavaScript.
Stay Tuned to Orlando United as more pictures & information become available.
In the mean time, join the Mako discussion on our forums!