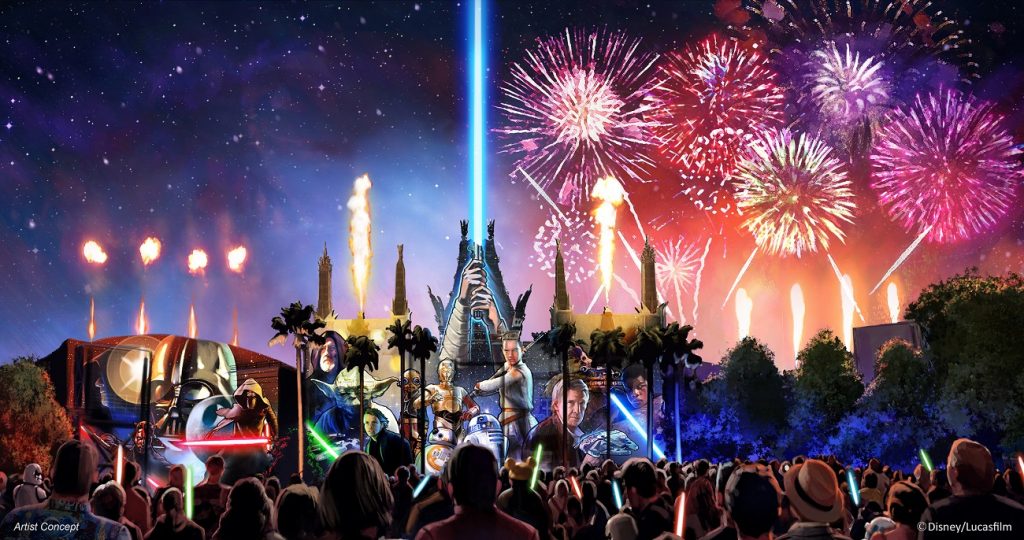 Walt Disney World Resort is unveiling even more Star Wars-themed entertainment at Disney's Hollywood Studios starting this spring.
April 4th will see the arrival of the new Star Wars live entertainment experience "Star Wars: A Galaxy Far, Far Away" and a First Order stormtrooper procession at Disney's Hollywood Studios. During the summer, the park is launching a new nightly fireworks and projection show called Star Wars: A Galactic Spectacular.
The show will combine fireworks, pyrotechnics, special effects and video projections that will turn the nearby Chinese Theater and other buildings into the twin suns of Tatooine, a field of battle droids, the trench of the Death Star, Starkiller Base and other Star Wars destinations. The show will be punctuated with a tower of fire and spotlight beams, creating massive lightsabers in the sky. This new show will be the most elaborate fireworks display to take place in the history of Disney's Hollywood Studios.
The new live "Star Wars: A Galaxy Far, Far Away" stage show celebrates iconic moments from the Star Wars saga with live vignettes featuring popular Star Wars characters, such as Kylo Ren, Chewbacca, Darth Vader and Darth Maul. The show will take place multiple times each day at the Center Stage area near The Great Movie Ride. "The Stormtroopers March" will be held various times each day, with the menacing Captain Phasma leading a squad of First Order stormtroopers as they march in formation from Star Wars Launch Bay to the Center Stage area.
Disney's Hollywood Studios has actively added more Star Wars-themed experiences since December – coinciding with the release of the record-breaking Star Wars: The Force Awakens film – and is currently in a transitional phase while the new Star Wars-land begins construction.