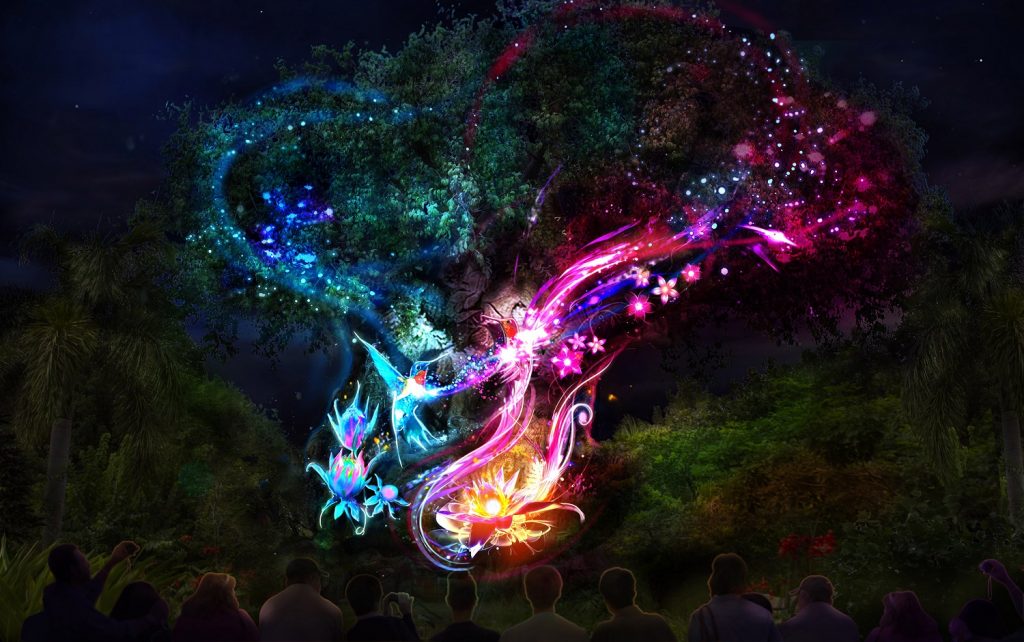 UPDATE 4/5/2016: Disney has confirmed that Rivers of Light and other nighttime experiences are delayed and will not open as planned. An update on when the experiences are set to open is expected in May.
---
With the announcement of Rivers of Light opening April 22nd, Walt Disney World has announced additional nighttime experiences that will be opening on April 22nd as well, helping Animal Kingdom transition from a day-into-nighttime experience. April 22nd happens to be Earth Day, as well as Disney's Animal Kingdom's 18th anniversary.
Across the park, guests can experience long-time favorites such as Expedition Everest, Dinosaur, and Kali River Rapids with more time to enjoy them into the night.
The other additional experiences expected to open on April 22nd are:
The Tree of Life Awakens
Nearby on Discovery Island, the area will come alive each night with a celebration filled with music and dance. The theme park's iconic Tree of Life will undergo extraordinary "awakenings" throughout the evening as the animal spirits are brought to life by magical fireflies that open a window into the body of the tree, revealing colorful stories of wonder and enchantment.
Kilimanjaro Safaris after Dark
Each evening, the popular Kilimanjaro Safaris daytime experience is artfully bathed in the look of sunset with special lighting allowing guests to explore and enjoy this attraction well into the night. During the expedition guests can now enjoy the wildlife at night, and may discover two new species: African wild dogs and hyenas.
Harambe Wildlife Parti/Discovery Island Carnivale
When the sun sets, the popular Village of Harambe will become a hot spot with the new Harambe Wildlife Parti. Here, "party animals" can dance alongside local street musicians and entertainers, partake in exotic foods and libations and explore the diverse wares of village artisans and merchants.   And the new Discovery Island Carnivale will captivate guests with lively music, spirited dance, vibrant costumes, and tasty culinary creations, spreading from one end of the island to the other.
Tiffins Signature Restaurant
In addition to the masterful new entertainment offerings beginning this summer, guests will enjoy Disney's Animal Kingdom's newest eatery, Tiffins. Open for both lunch and dinner, this new signature dining experience will celebrate the art of traveling and include waterfront views from both indoor and outdoor seating areas. "Tiffin" is an Indian English word meaning midday meal or type of container used to carry food while traveling.