Universal Orlando has revealed new information about their new incarnation of The Incredible Hulk Coaster, opening later this Summer.
In addition to completely new track pieces that were installed over the past few months, the coaster features new trains with on-board audio, a new story line, and a completely new entrance.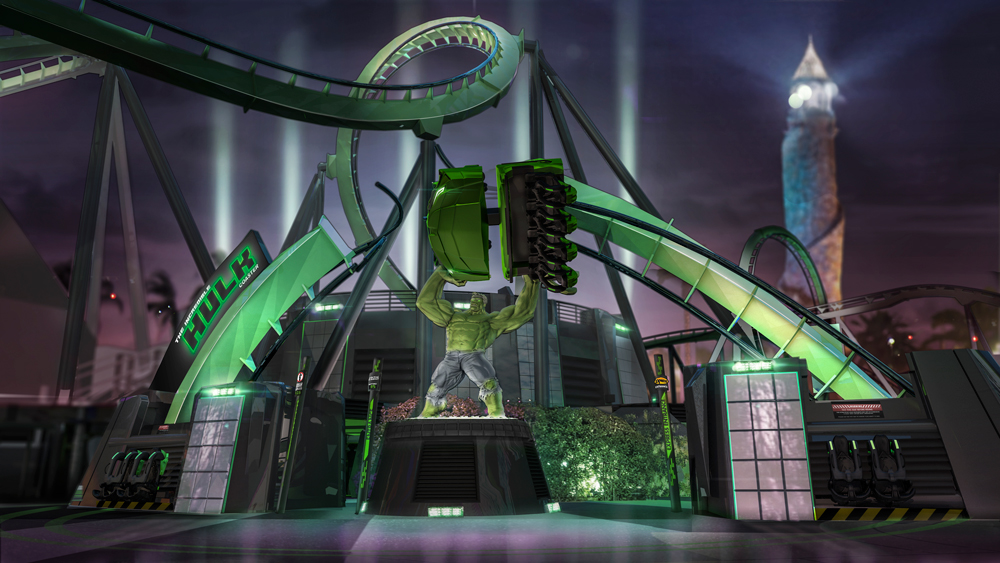 According to Universal, the new story has General Thaddeus Ross calling for volunteers for a new experiment, where guests will be "subjected to high levels of gamma radiation through a process called Hulk-a-fication" – a life-altering process first introduced by Dr. Bruce Banner. The new queue takes place inside a state-of-the-art military research compound, commanded by General Ross. Inside, General Ross is conducting an "array of questionable, bio-radiological experiments". Guests will pass by laboratories containing high-tech equipment his team uses to execute his mysterious tests.
As you move through the queue, you'll witness the transformation of your predecessors as they undergo the perilous "Hulk-a-fication" process.  The loading platform will be "sparking with electric bursts as the Gamma accelerator powers up to blast you with superhuman strength".
Also re-designed was the ride vehicle, which now sports a sleek, modern new look along with a brand new, in-seat audio system that booms an original ride score created by Patrick Stump, front man for rock band, Fall Out Boy.
Universal also states that the launch tunnel will feature a new experience, which will be "packed with amazing special effects", as you're propelled out over Marvel Super Hero Island with super-human force.