Last week, SeaWorld Orlando officially announced the details of their newest breed of thrill machines – Mako.
Mako is a B&M Hyper Coaster that will stand 200-ft tall, reach speeds of 73 MPH, and give riders relentless airtime along its nearly 4800 ft of track. It will be the tallest, fastest, and longest in Orlando when it opens in Summer 2016 -an addition that many Florida coaster and ride enthusiasts have been waiting decades for.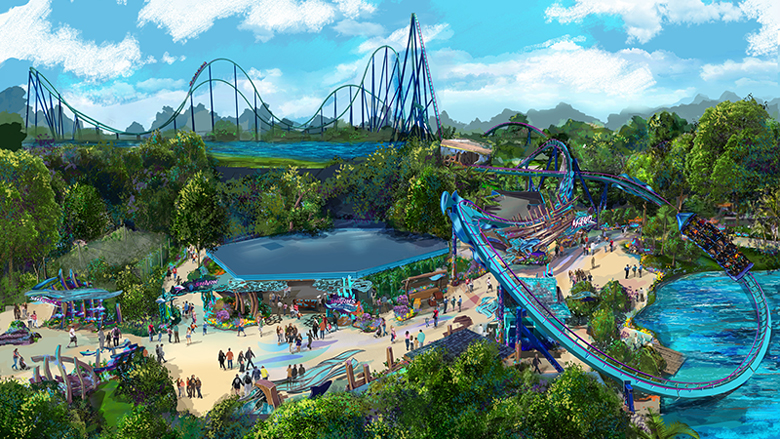 Mako is defined as a "Hyper Coaster" – a rollercoaster with a height of 200-299ft, designed for speed and airtime. Hyper Coasters have been around since Cedar Point debuted Magnum XL-200 in the Summer of 1989. Since then, Hyper Coasters have continued to evolve with new and unique elements, elaborate ride vehicles, and more extreme ride circuits. But even with all the advances in technology, the reasons Hyper Coasters stand out from the pack – and the main reason to be excited about Mako – air time.
Air time is defined as the moment of near weightlessness you feel as the train reaches the crest of a hill at high speed, then dives back to earth lifting you out of your seat. Coaster enthusiasts love air time and have made Hyper Coasters beloved, with many being included in Top Coasters lists.
I've been on 150+ coasters (a drop in the bucket to many enthusiasts) and within my Top 15 lie several Hyper Coasters – including Apollo's Chariot, Goliath, Superman, and Nitro. Hypers are just pure fun from start to finish, but also very re-ridable.
Another huge reason to be excited about Mako is its makers – Bollinger & Malliard. B&M is the manufacturer of Mako, and if you listen carefully you can hear the collective cheers of the fans thanking SeaWorld for choosing them to create this coaster. SeaWorld parks as of late have been exploring other manufacturers – such as Premier, Mack, and even Intamin – and while we did get some great creations from those teams, SeaWorld did the right thing by bringing back B&M for Mako.
B&M and SeaWorld Parks have a long standing and award-winning relationship together. Mako will be the companies' 15th collaboration and will join SeaWorld's award winning duo of Kraken and Manta, as well as several of its sister parks' award-winning B&M designs – like Montu, Kumba, and Alpengiest. B&M's designs are widely known as the best coasters for ride comfort, fun factor, and quality of ride.
For those who may not know much about B&M and their version of a Hyper Coaster, they are butter smooth and offer great pops of floater air time. In my opinion, what sets B&M apart from the competition are the coaster trains themselves. They offer a great feeling of open-air independence. The seats are elevated off the chassis so your feet dangle and the restraints used are among the best of any coaster you'll find. The unique "clam shell" harness slides over your thighs and lap leaving you free to move your entire upper body and again create that feeling of freedom during your ride. It truly is one of the best coaster train designs out there today.
B&M's are also known for their impeccable safety records and second-to-none reliability. In a time of harsh publicity for SeaWorld, picking the best coaster manufacturer was a great business move. SeaWorld can't afford any costly delays that could have a negative impact on business.
Finally, the themed environment surrounding Mako looks incredible in detail. The queue is sure to follow in the footsteps of SeaWorld's two previous recent attractions – Manta and Antarctica: Empire of the Penguin. SeaWorld is promising a uniquely themed shipwreck environment, and it also helps that it will be focused on one of the most interesting species in the sea – Sharks!
Who doesn't love roller coasters and sharks!?
Mix the two together and I'm hard-pressed to see how this won't be an awesome experience.
So in summary- 200-ft Coaster, air time galore, top speed of 73MPH, awesome ride vehicles, SHARKS!, unique effects, and a shipwreck atmosphere… Did I mention I renewed my SeaWorld Orlando Annual Passes today? True Story.
Mako is exactly what Orlando needs – a 200ft coaster with big drops, huge speed, and relentless airtime. It will create a buzz among Florida residents and out-of-towners looking for a one-of-a-kind thrill experience. This was a great move for SeaWorld and it's a project we should all get behind and be excited for. I can't wait to get my first dose of Florida air time next Summer!
Agree, Disagree, or Indifferent? Join the discussion on my article on the Orlando United Forums!