With the holidays in full swing, Knott's Berry Farm invited us to take a special look at their holiday festivities, which run from November 19 – January 8, 2017.
While the Southern California theme park market is saturated with holiday promotions, Knott's Merry Farm manages to carve out a special niche by focusing on retrospective holiday décor and celebrations. To put it succinctly, the event has an analog feel that contrasts heavily with the technology-laden overlays that the Disneyland Resort and Universal Studios Hollywood both have to offer. This isn't a bad thing per say, but it does mean that the event at Knott's contrasts heavily with their friends in Anaheim and Hollywood.
So with that in mind, let's take a look at Knott's Merry Farm.
Christmas Crafts Village
Featuring a plethora of local vendors and craft makers selling their homemade wares, the Christmas Crafts Village is a bespoke western environment that encompasses most of Ghost Town and Calico.
From tile making to horseshoes, the Christmas Crafts Village gives you a wonderful opportunity to walk around and admire the local talent.
Christmas in Calico
A hark back to the days of the American west, the city of Calico has been adorned with traditional Christmas lights and décor. Continuing Knott's push for increased interactivity with Ghost Time Alive!, this year's Christmas overlay features a heavy dose of character interaction – much in the same vain as the Whoville citizens during Grinchmas. With the local townspeople scattered about, Calico's interactive element allows you to feel like you've become one of the residents of Calico.
Of course, Christmas in Calico also features a small plate of entertainment and activities, including live carolers, readings of The Night Before Christmas and a chance for the young residents of Calico to write a letter to Santa Claus.
Santa's Christmas Cabin
As its name suggests, Santa's Christmas Cabin features a recreation of Santa's home where you'll find snacks, drinks and desserts such as warm nuts, pastries, cookies and milk, hot chocolate, coffee, kettle corn, beer, wine, ports and chocolate covered cheesecake. Christmas trees have been scattered throughout the room alongside plenty of seating, allowing guests to take in the room's festive ambiance.
As you head deeper into Santa's cabin, you'll be transported to a real life Hallmark greeting card, complete with a fireplace and working train set. If you're looking to have a lasting memory, you'll also have the opportunity to take a photo with Santa himself.
A Christmas Carol and The Gift of the Magi
As a bit of a disclaimer, both shows take place in the Bird Cage Theatre, but due to time constraints, we were only able to experience A Christmas Carol.
But before we dig into the meat of the show, it's important to note that the show is intimate and (a first for a theme park show in recent history) unamplified. While this type of setting is usually death for any theme park show, it serves A Christmas Carol well, placing the actors and the audience within arms length of each other.
As for the show itself, Knott's retelling of A Christmas Carol is a condensed retelling of the Charles Dickens story. That being said, the strength of the performers – particularly Ebenezer Scrooge – easily carried the show through with powerful and captivating performances.
Merry Christmas, Snoopy! Ice Show
Perhaps the highlight of Knott's Merry Farm is the Merry Christmas, Snoopy! Ice Show.
Featuring a combination of discrete vignettes based off the holiday season (not unlike World of Color: Season of Light), Linus and Charlie Brown act as the show's primary hosts with introductions to various scenes.
However, while Merry Christmas, Snoopy! features high production values and expert skaters, its real strength lies in its emotion. In particular, the scene involving Frank Sinatra's I'll Be Home For Christmas is especially poignant, featuring a solider coming back from war as he skates effortlessly to the love of his life.
A Peanuts Guide to Christmas
Over in Camp Snoopy, be sure to catch A Peanuts Guide to Christmas. This is the only show on this side of the park, so if time is short, this may be one to pass. However, if you're with children, it might be worth your while to make this show your first stop. Like the non-holiday version, this show features a simple production and story line with a giant guidebook driving the show.
As for characters, the show enlists the help of Linus, Lucy, Sally, Charlie Brown and Santa Snoopy – everyone's favorite beagle to tell the true meaning of Christmas. So while the show itself is all prerecorded music with no live speaking parts, the characters alone are enough to captivate the attention of children who have a tendency to lose interest quickly.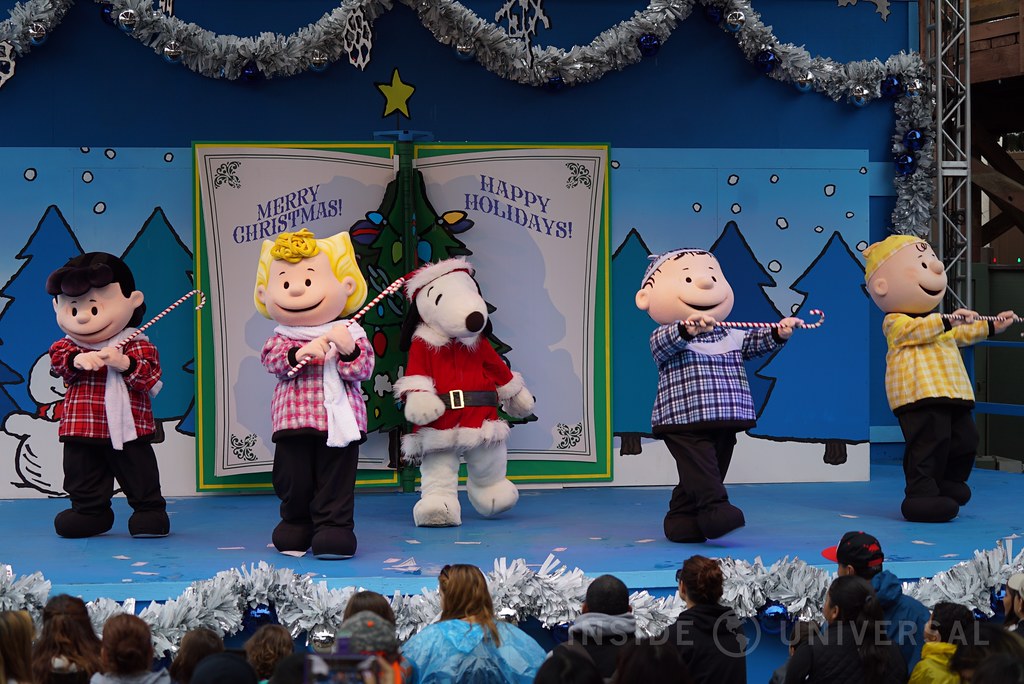 Calico Saloon Christmas Show
Featuring a cast of five performers singing and dancing to classic Christmas tunes, the Calico Saloon Christmas Show delivers a simple blend of chorography and song in the intimate Calico Saloon.
Dakota Dan, Candy O'Cane, Trixie, Dixie and Henry lead the vaudeville revue, all while encouraging audience members to cheer, sing and dance. With songs like It's Beginning to Look a Lot Like Christmas, The Man with the Bag and the classic Can-Can saloon routine, the show is a great option that continues the fun, interactive side of Calico.
Calico Tree Lighting Ceremony
The short ceremony gathers the local townspeople together right outside the Calico Saloon for a single (!) tree lighting ceremony every night. The carolers, whom can be found throughout Calico, join in the festivities to make the show a cheerful affair.
As the show begins, the Little Bell Chapel Bell Choir appear on stage singing Deck the Halls. After the song, Judge Abigail Dynamite will come out to welcome welcome everyone to Calico's annual tree lighting ceremony.
Before the lighting took place, the Judge uses the opportunity to remind everyone that the importance of Christmas is not simple the tree or lights, but being with those you love.
Snow and Glow in Ghost Town
As darkness falls upon Ghost Town, the streets come alive as music fills the air and snow begins to fall. Suddenly, the lighting that adorns the buildings and the lanterns in the trees begin to dance.
Unsuspecting guests, such as myself, were stopped in our tracks only to gaze into the dancing lights and falling snow. It's a simple show, but one that manages to fit a bit of technology within the environment of Calico without feeling too out of place.
Final Thoughts
Overall, the strength of Knott's Merry Farm lies in its variety of options. The park offers something for everyone, from the classic retelling of A Christmas Carol, to your favorite comic strip coming alive. Simply put, Knott's event casts a wide net in its offerings, and it's difficult to complete the entirety of Knott's Merry Farm in a single visit.
On another level, Knott's well-known hospitality and innate understanding of their history allows them to create a holiday experience that acknowledges (and in some cases, embraces) their strengths. They're not trying to be Disneyland or Universal, but in many cases, they don't need to be. Knott's, simply put, is playing on a different playing field.
If you're looking for a unique take on the holidays that focuses more on intimacy rather than on sheer spectacle, we suggest giving Knott's Merry Farm a try.