It's party time! Every spring on select weekend nights, Universal Studios Florida transforms into Bourbon St. for a wild block party featuring tunes, brews, beads and colorful performers. There's plenty of reasons to check out the event, but here's the 5 you need to know. On to the countdown!
5. Bead Throwing
Not only does Mardi Gras provide you with world class entertainment, but you yourself can be a part of the action! Annual Passholders can sign up to be bead throwers in the parade. You must sign up a week beforehand to take part in the action.
Not an annual passholder? You still have a chance! The park has a standby sign up located in KidZone near E.T. On some slower nights, you could even be approached at random by staffers in the park. I have personally done this and have to say it's a blast!
Protip: Whatever beads you don't throw… you can keep when the parade is over!
4. Live Music in the Courtyard
If you want to get a head start on the good times, head over to the French Quarter Courtyard for some authentic sounds of New Orleans. Starting around 4 pm, bands directly from the Big Easy entertain guests as they sip and snack on the authentic flavors of New Orleans. Which brings us to #3…
3. The Food!
The French Quarter Courtyard features all kinds of authentic New Orleans cuisine to spice up (literally) your Mardi Gras experience. Entrees typically range from $7-$10 and include:
Jambalaya
Gumbo
Beignets
Shrimp Po'boys
Voodoo Chicken Tenders
Cheesesteaks
Twisted Taters
The bars also serve mixed drinks as well as craft beers this year. So grab a Po'boy, get yourself some Voodoo Juice, and get a good spot, cause it's almost time for #2 on our list.
2. The Parade
Nightly, during the event, is the fan-favorite Mardi Gras parade! The parade begins and ends in Hollywood (next to the Horror Make-Up Show) after making it's way through New York and Production Central.  All in all, the parade lasts roughly 25 minutes.
The themes of the floats range from Gators, to Riverboats to the Chinese New Year. Performers also take to the streets. Be on the lookout for beads flying all over the streets of Universal Studios Florida! In addition, you may even find yourself catching a few Mardi Gras doubloons!
Protip: Best spot to see the parade is in Hollywood Blvd., near Terminator 2: 3D or Schwab's Pharmacy.
Protip: To see both of the main events of Mardi Gras, you'll want to find a spot in Production Central, as close to the Music Plaza as you can find.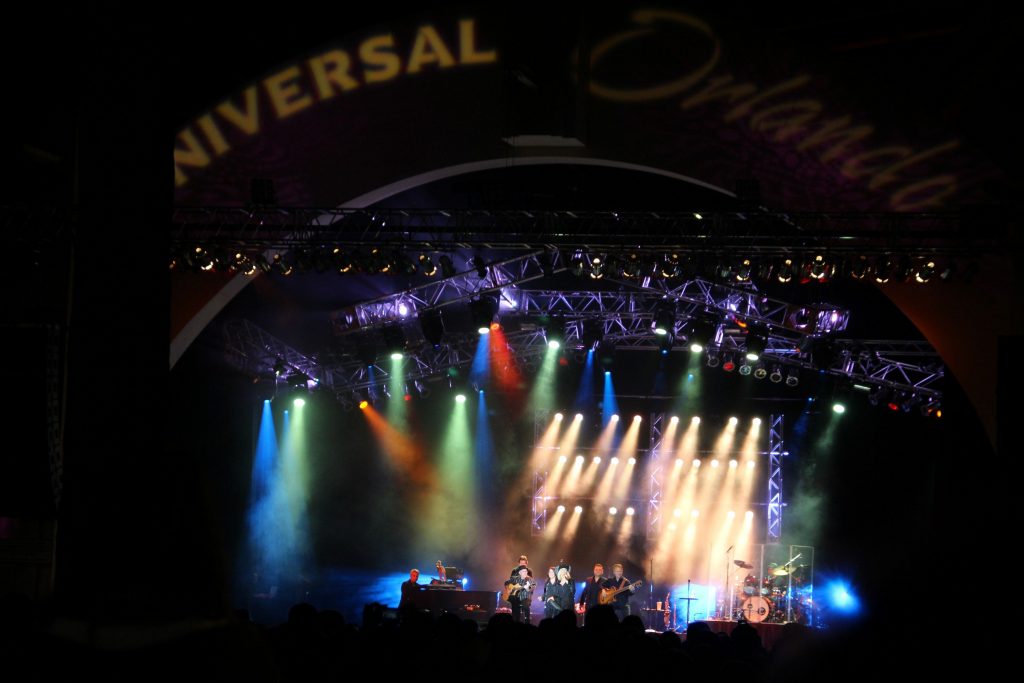 1. The Concerts
Anytime you can see a free concert, it's a win in my books. The concerts is the thing that puts Mardi Gras on the next level for many people, myself included. Taking place at the Universal Music Plaza in the Production Central section of the park; the concerts features acts ranging from all kinds of different genres of music. There's surely something to please everyone over the course of the event. Heading out to Mardi Gras? Here's the 2015 performers:
2/7 8pm: Olivia Newton-John
2/14 8pm: Jessie J
2/15 8pm: Barenaked Ladies
2/21 8pm: Kelly Clarkson
2/28 8pm: Heart
3/7 8pm: Trace Adkins
3/13 8:30pm: MKTO
3/14 8:30pm: Styx
3/15 8:30pm: American Authors
3/20 8:30pm: Becky G
3/21 8:30pm: Yandel
3/22 8:30pm: The B-52's
3/28 8:30pm: Phillip Phillips
4/4 8:30pm: All-American Rejects
4/11 8:30pm: The Band Perry
4/18 8:30pm: Trey Songz
These concerts are typically extremely crowded, so if you're dead set on seeing the performance, my best advice to you would be to skip the parade and line up the Music Plaza stage as early as possible!
Mardi Gras is an event that is absolutely not to be missed. Between the food, music and parade, there's surely something for everyone in your party. For any other reviews, tips, advice or questions, be sure to check out the thread on our forums. If you have any feedback, be sure to contact me at drew@orlandunited.com or on Twitter @DrewOfOU. Until next time guys, be excellent to each other!